Commander Dean DeBourge,
Executive Officer

Commander DeBourge was raised just outside of St. Louis, MO in O'Fallon, IL. He enlisted in the U.S Navy in 1990. After two tours serving as a Flight Engineer and Maintenance Professional with VP-26 (Brunswick, ME) and VAW-120 (Norfolk, VA), he was selected for the Enlisted Commissioning Program and graduated from the University of New Mexico in 1999 with a Bachelors of Business Administration in Finance. In 2007, he was a Distinguished Graduate from St. Mary's University at San Antonio with a Masters of Business Administration in Information Systems.
Commander DeBourge was designated a Naval Flight Officer in 2001. After initial training in the P-3, he reported to VP-40 (Oak Harbor, WA) where he served as the Classified Materials Systems Officer and the Aircraft Division Officer. His follow on tour in 2004 was with U.S. Air Force's 562nd Flight Training Squadron where he served as the Lead Instructor Navigator. In 2008, he checked onboard the USS Theodore Roosevelt (CVN 71) as the Catapult and Arresting Gear Officer and multiple Air Department Division Officer positions. In 2010, he reported to VP-45 (Jacksonville, FL) for his Department Head Tour where he served as Tactics, Admin, Training, and Maintenance Department Head. In 2013, he returned to Oak Harbor, WA where he served as Maintenance Officer for Patrol and Reconnaissance Wing TEN. He is currently the Sexual Assault Prevention and Response Officer for Commander, US Naval Forces Central Command /U.S. FIFTH Fleet (Manama, Bahrain) where he has served since 2016. He checked onboard as XO at the University of New Mexico NROTC in 2017. 
Throughout his career he has deployed in support of multiple theater campaigns to include Operations Desert Shield, Desert Storm, Iraqi Freedom and Enduring Freedom. His personal awards include the Meritorious Service Medal, Air Medal, Navy Commendation Medal (three awards), Air Force Commendation Medal, Navy Achievement Medal (three awards), as well as various service and campaign awards.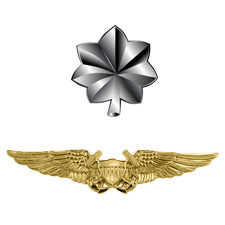 Contact